Competition Comparison
INSTRUCTIONS: Set Box background as Image. Recommended image size: 2340 W x 1200 H
*DELETE THIS BEFORE PUBLISHING*
The world's first Smart Muscle Stimulator.
WHY POWERDOT IS THE FUTURE OF EMS:
The idea that an electric current can activate individual muscles and targeted muscle groups, and promote muscle growth is no secret. We didn't reinvent the wheel. Electrical muscle stimulation is time tested technology dating back to the 1950s, and has been helping people increase muscle performance as well as support muscle recovery for decades.
PowerDot Smart Muscle Stimulation takes the technology of traditional EMS and packs it into a sleek, lightweight, easy-to-use pod that is completely controlled from your smart device.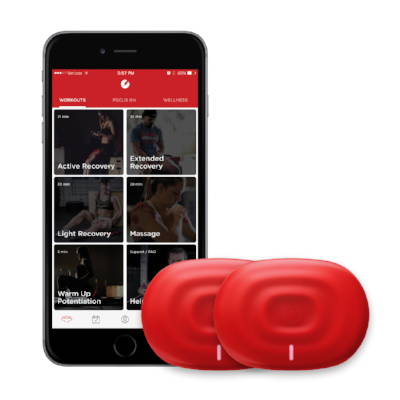 OTHER DEVICES ON THE MARKET:
Most electric muscle stimulators that are on the market are clunky looking medical devices with lots of wires and buttons. You really have two options: The inexpensive, untested devices that can be painful and even harmful to the body, or the overpriced, overdone devices that look like they belong in a doctor's office.
Now you can benefit from the same EMS technology used in medical offices and among top athletes, and rest assured that your EMS treatments are scientifically sound and FDA cleared for safe home use. PowerDot's electric muscle stimulator is half the cost and size of most of the competition with twice the capabilities.
Our sleek design, portability and app based settings make PowerDot the premier EMS device to serve athletes and fitness enthusiasts of all levels. Whether you are intensely training for a competition or just trying to recover from your daily workout, PowerDot EMS technology optimizes your fitness performance, recovery and wellness.